There are buttons and a joystick placed discreetly at the bottom of the panel, and these can be used to adjust various settings on the display. Handily, however, BenQ has also included a small remote control, which is a bit unusual for monitors of this type, but it provides easy access to various presets and is our favorite option for fiddling with the menus. If you don't want to deal with yet another plastic object on your desk, the aforementioned built-in inputs work well and have a sturdy, tactile feel.
In terms of ports, you get the obligatory DisplayPort for your PC, as well as two HDMI 2.1 ports for 120fps output, four USB ports, and a 3.5mm headphone jack. Everything is neatly arranged and easily accessible, so you shouldn't have too many headaches replacing cables if you're the type of person who rotates through different tech devices on a regular basis. At this point, it's worth mentioning that you can adjust DisplayPort and HDMI settings independently, which is handy if you plan to use this monitor for both PC usage and PS5 gaming. Personally, we prefer a dimmer, thinner image when flipping through spreadsheets and a brighter, more vivid image when playing console games, and the EX3210U delivers on that.
Image quality: true colors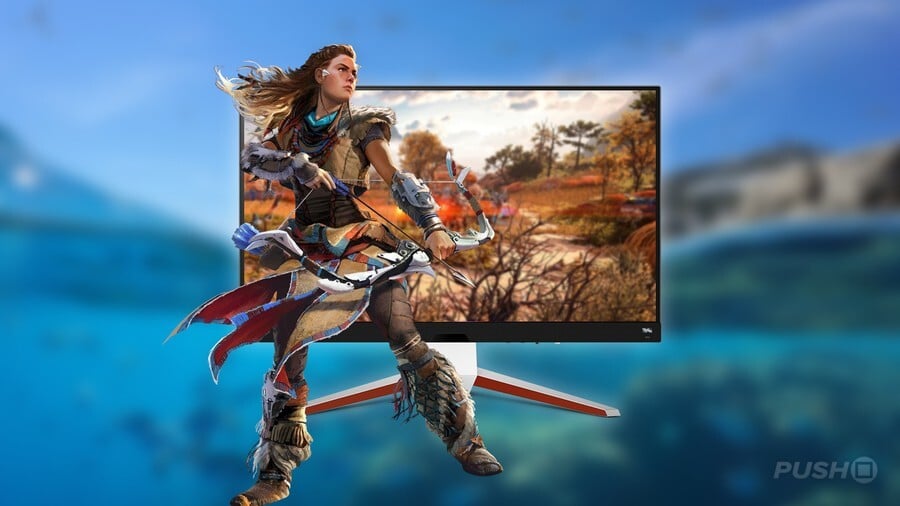 As mentioned at the beginning of this review, image quality is key when it comes to choosing a display, and in our opinion, BenQ has lived up to its lofty promises. The IPS panel used by the EX3210U is rich and vivid, thanks to a very impressive color palette. There are plenty of presets to play with, although we personally found fiddling with all the parameters available in the Custom setting to be best. The key here is the flexibility enabled by the monitor, and it really does offer an abundance of options if you want to experiment, plus some handy 'out of the box' configurations if you don't want to mess around.
One thing to note, however, is that in SDR you will experience a peak brightness of around 250 nits on this monitor, which is low compared to other options on the market. While you can force HDR for all content, which ultimately gives a much brighter picture, as you'd expect, it might not always be accurate if it's not natively supported. Therefore, if you intend to use it in a relatively bright environment, you may find the SDR output dull and lackluster. It's definitely worth considering where you'll place the monitor and how it will be affected by daylight; We didn't have too many issues in our setup, but the skylights and large windows could eventually hinder visibility, we suspect.
Even light bleeding can be a problem, although your mileage can vary a lot on that front. We did notice some blooms and overflows in the corners of the panel, but nothing overly aggressive; this could unfortunately boil down to a manufacturing monopoly, so if you go for one of these, you'll want to thoroughly test it in the dark to see if your unit is affected. While this can be an unfortunate issue, we have to say that the viewing angles on the monitor, along with its overall clarity at 4K resolution, are excellent.