Microsoft has entered the supply chain arena with a new offering designed to help organizations understand and act on supply chain issues.
The new Microsoft Supply Chain Platform aims to enable organizations to orchestrate data from their disparate supply chain systems and make decisions about it.
The new platform uses Microsoft cloud infrastructure and applications, including Azure, Dynamics 365, Microsoft Teams and Power Platform, as the building blocks for customers to orchestrate data, create workflows and improve supply chain operations.
A key component of the new platform is the Microsoft Supply Chain Center, which serves as a control tower for supply chain data and analytics, according to Mike Bassani, general manager of supply chain at Microsoft. The Supply Chain Center can take data from a company's existing supply chain systems, including Microsoft Dynamics 365, SAP and Oracle ERP systems, as well as standalone supply chain applications, and find out where they might be having problems.
The Supply Chain Center includes connectors for logistics and supply chain application vendors CH Robinson, FedEx, FourKites, and Overhaul.
Microsoft Supply Chain Platform is now available as an open platform with features from Dynamics 365, Azure and Microsoft 365, which are purchased and priced individually, according to Microsoft.
Supply Chain Center is in public preview, with licensing and pricing information to be determined based on general availability. Dynamics 365 Supply Chain Management customers will automatically have access to Supply Chain Center with their existing licenses.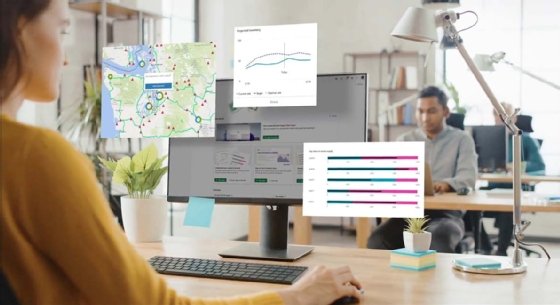 The supply chain challenges are ongoing
Supply chain disruptions have become a constant problem for organizations in recent years, requiring new applications to identify and mitigate problems before they impact business, Bassani said.
Businesses are vulnerable to supply chain disruptions because they lack visibility to see what's coming, as data is out of date and can get trapped in various disconnected systems, he said.
The new supply chain platform was born out of Microsoft's supply chain disruptions and lack of applications to manage them, said Panos Panay, Microsoft executive vice president and chief product officer, during Supply Chain Reimagined, a virtual conference introducing the platform. Wednesday .
Five years ago, Microsoft's supply chain was managed on Excel spreadsheets.
"It worked, but once you start getting into the nuances of all the challenges, it's not an effective way to do it," Panay said.
Over the past five years, Microsoft has transitioned from Excel to a local cloud-based system, including 15 Azure products, which have served as the foundation for its new supply chain offering, it said.
Kraft Heinz gets better supply chain insights
Consumer goods giant Kraft Heinz Co. has been using the new platform for the past two years, said Mitch Arends, senior vice president and head of operations for Kraft Heinz North America, at the Supply Chain Reimagined event.
Several issues, including a drought in California that affected the supply of Kraft Heinz tomatoes for the Heinz ketchup brand, have put pressure on the supply chain, Arends said. The pandemic has changed consumer behavior towards more home consumption, leading to changes in the way Kraft Heinz delivers products to market.
All of this has led Kraft Heinz to need a more agile and resilient supply chain so that the company could, for example, predict disruptions before they happen, he said.
"[Microsoft Supply Chain Platform has] it helped increase our scalability and reliability, and allowed us to see insights and trends faster," said Arends. ."
Satisfy demand to connect supply chain applications
Microsoft's new platform could be successful because it offers something companies are looking for and doesn't require them to forego existing technology investments, said Dan Newman, principal analyst and founding partner of Futurum Research.
Microsoft isn't raising its hand and saying it's going to fix everything, it's saying it wants to be a conduit to bring together and provide a centralized set of tools to improve supply chain management.


Dan NewmannPrincipal analyst and founding partner, Futurum Research

"Microsoft isn't raising their hand and saying they're going to fix everything," Newman said. "They're saying they want to be a conduit to bring together and provide a centralized set of tools to improve supply chain management."
An advantage for Microsoft is its broad exposure in nearly every company, but other vendors with established supply chain offerings such as SAP, Oracle, IFS and ServiceNow will create a competitive market, he said.
But Microsoft doesn't appear to want to compete as a standalone supply chain platform, according to Simon Ellis, a vice president at IDC. Instead, the software giant's platform works more like a hub, with plug-and-play capabilities so companies can connect data from various supply chain systems together.
IDC's research suggests that vendors are looking for orchestration tools, better network connectivity, and better connectivity and integration between on-premises tools and the cloud, Ellis said.
"This is in line with what Microsoft has done here and there is definitely a declared interest, but whether that turns into buying interest is another story," he said.
Customer demand, especially from large enterprises, is driving every vendor to look to put together a data orchestration platform, said Balaji Abbabatulla, an analyst at Gartner. Microsoft could succeed where others don't, he added.
"They don't have a supply chain customer base, so they don't have to stick to what the customer base is telling them in designing an open data integration platform," Abbabatulla said. "Also, Microsoft's ecosystem capability is built on Azure and the partnerships they've matured over time, which none of the other vendors have. Microsoft knows how to bring ISVs together to create an integrated solution. They have the experience with the market of Azure to do this."
The new offerings are attractive to customers because they can address different needs: Supply Chain Platform for more complex requirements and Supply Chain Center for less complex requirements, he said.
For more complex scenarios, the supply chain platform allows customers to orchestrate data from different systems and build workflows using pre-built templates. Supply Chain Center connects the underlying data to pre-connected partner applications such as CH Robinson and Overhaul, making connections instantly available to customers.
"You can bring all the data together, but then you use the Supply Chain Center as a gateway to connect to the other applications that provide the execution capabilities," Abbabatulla said.
Jim O'Donnell is a senior TechTarget journalist covering ERP and other business applications for TechTarget Editorial.