With another questionable scoreboard for betting on Sunday, let's use my model's long-term information to see if we can narrow this pool of players down into a compact list of options.
I have yet to encounter a final round leaderboard with as many sensational outsiders (when it comes to my pre-event research) as we're getting here, but it should be a fun article as the stakes are higher.
If you aren't already, you can find me on Twitter @TeeOffSports. There I will provide my pre-tournament model, a powerful and interactive data spreadsheet that allows user inputs to create custom golf rankings. That sheet is free and released every Monday, so be sure to check it out and build your numbers from my database of information.

Classification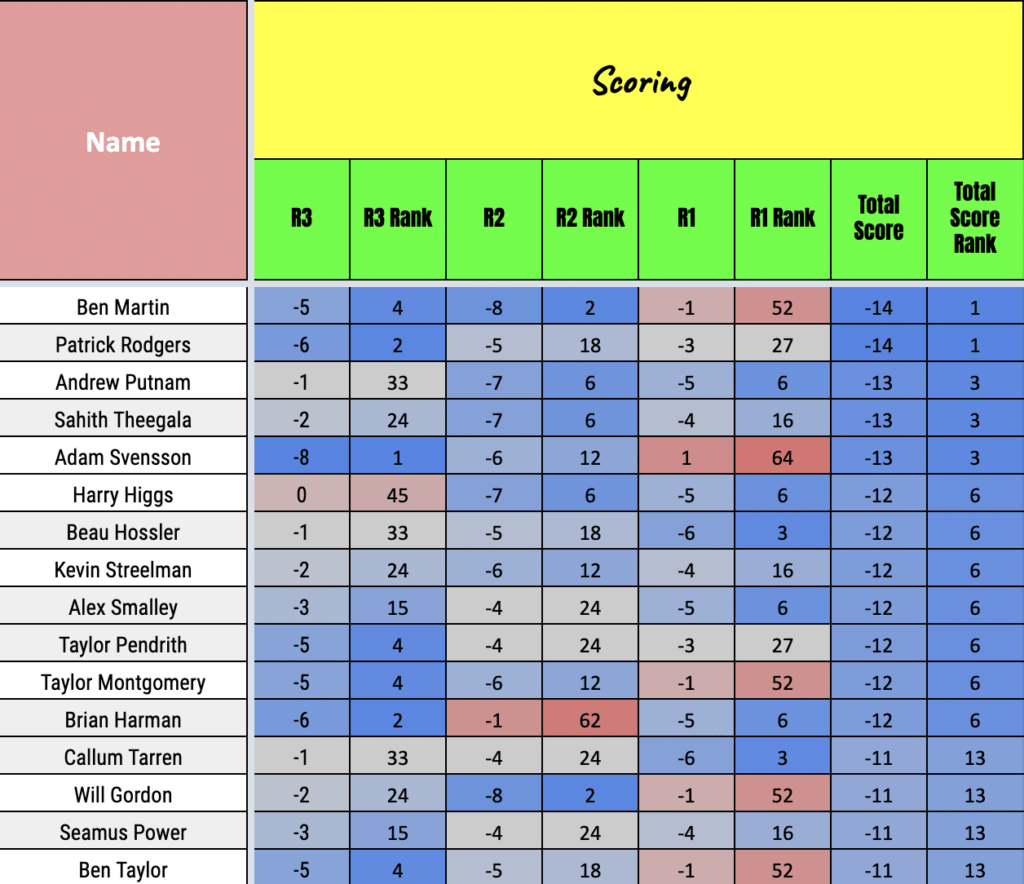 Long-term data
I miss some tournaments for various reasons, but here's some info to keep in mind.
82/85 entered the top 10 on Sunday (96.4%)

71/85 were within three shots of leading (83.5%)

No golfer has ranked outside the top 60 looking at a few iterations of my pre-tournament model in 2022.

36/39 were the pre-event top 41 (92.3%)
It's worth noting that most of the winners who have come from off the pace have done so during an event with fewer names between them and the lead.
Sunday Pretenders
Ben Martin – Pre-Tournament Model Rank (108th)
What Martin has in store for him is that he has tasted victory in the past, but it has been hard to see that result happen after he failed to generate a better result than 49th in six attempts at the Tour this season. Maybe the lack of data I have available doesn't correctly describe his real chances, but I'm fine with him letting me beat on Sunday.
Harry Higgs – Pre-Tournament Model Rank (112th)
My data refused to believe anything other than severe volatility was in store for Higgs at Sea Island. The 147th place for weighted par-four score continues to rank as a concern when we examine the importance those holes play when deciding the winner. I don't like his chances on a Sunday under pressure.
Beau Hossler – Pre-Tournament Model Rank (92nd)
I'm willing to acknowledge that I probably got it wrong somewhere about Hossler. The American had quietly delivered three top 40 finishes before last week's hiccup in Houston, but numbers are numbers when I run these trends for the event, and there's nothing I can do at this point to correct a profile that doesn't rank as a tangible goal if historical trends are to be believed.
Kevin Streelman – Pre-Tournament Model Rank (59th)
Streelman is an oddity that lands in the middle of multiple trends. Yes, he qualifies after making the top 10 on the day and three strokes off the lead as a pre-event top 60 option, but it also means something to me that 36 of the last 39 winners have been top 41 in some iteration of my template.
Sunday Contenders
Patrick Rodgers – Pre-Tournament Model Rank (12th)
I've been one of Rodgers' biggest supporters over the last few months, so can you even imagine the pain I'll feel when he crosses the finish line on Sunday without me holding an outright ticket?
Andrew Putnam – Pre-Tournament Model Rank (2nd)
Putnam remains one of my main cheering interests tomorrow. The outright price of 55/1 I got before the event is on if it can stabilize the ship, and the expected par four score that put it first in my model could prove to be a huge plus.
Sahith Theegala – Pre-Tournament Model Rank (14th)
In my article on Wednesday I noted how Theegala held a top 15 lead when I recalculated a handful of stats, and the ride accuracy increase was fully shown after he switched to a high lofted rider. Theegala's birdie-making potential is noteworthy, and while his performances in the fourth round have not always produced the desired results, some of the lack of winning equity has been exaggerated due to a misfire here or there.
Adam Svensson – Pre-Tournament Model Rank (13th)
Svensson (160/1) provided me with another Sunday rider after moving up the leaderboard. Svensson ranks eighth in my model for weighted proximity, third in Bermuda putting from 25-foot-plus, and the combination of short-course dominance and recalculated par 4 scoring continues to increase his chances upside.
Alex Smalley – Pre-Tournament Model Rank (16th)
With outright tickets pending on Putnam, Harman and Svensson I will be adding Smalley as a fourth choice at 18/1. The 106th-ranked golfer in the world has trended upwards with back-to-back top 11 finishes. The ceiling may be ready to explode for his first win.
Taylor Pendrith – Pre-Tournament Model Grade (17th)
My numbers have not loved Pendrith this week for the price we have had to pay to get exposure, but now that we are at this stage of the festivities, there is nothing numerically that would disqualify it from being one of the best win equity candidates in the field. The Canadian showed huge upside as conditions improved with the wind, and his GIR tally in ninth is behind only Ben Taylor and Ben Martin.
Taylor Montgomery – Pre-Tournament Model Grade (3rd)
Montgomery is one of the best putters with an opportunity on Sunday and the countless top 15 results he's delivered since joining the Tour at the Fortinet Championship should give him some of that extra boost of confidence.
Brian Harman – Pre-Tournament Model Grade (1st)
I wouldn't discount Seamus Power and Will Gordon if we push it to the golfer's back three, but I'll stop there since a top 10 has typically been a prerequisite for finding a winner on Sunday. Harman was the top golfer in my pattern when I ran the final numbers Wednesday night and his ability to catch fire was pronounced Saturday after I hit seven of his first 10 holes.
How would you rate this article?