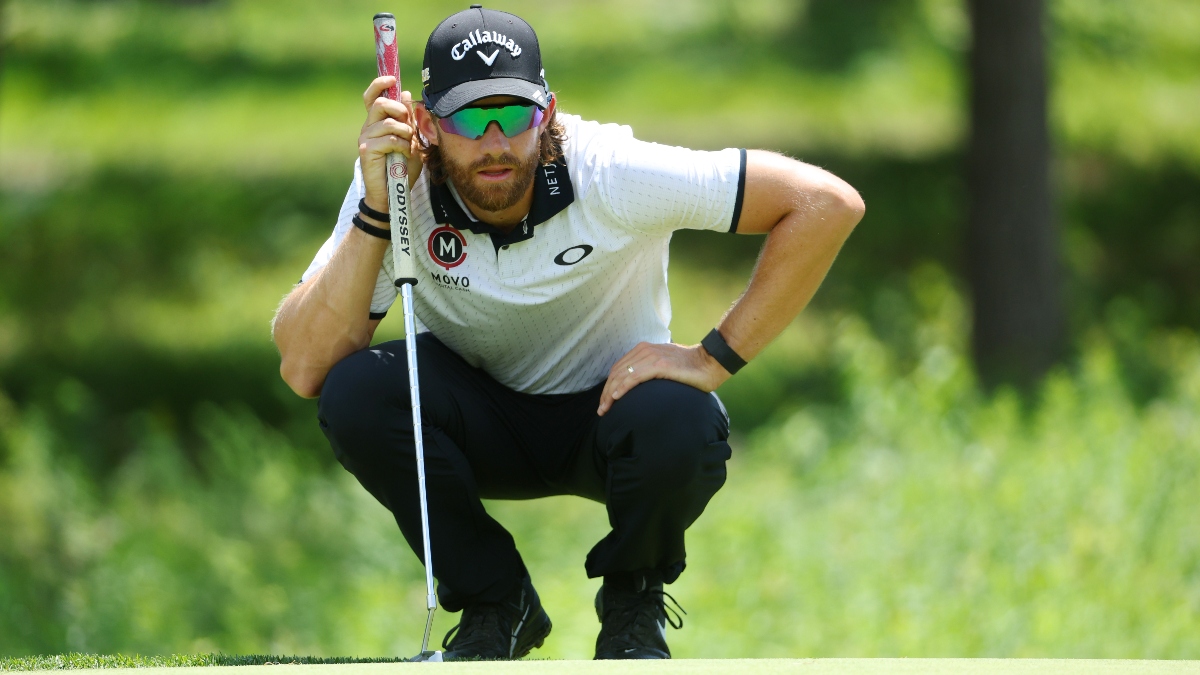 Credit:
Andrew Redington/Getty Images. Pictured: Patrick Rodgers.
We're slowly making our way through the first 36 holes of the Houston Open, though play had to be halted for the second straight day before the round concluded, this time due to bad weather forcing a sudden suspension for nearly half the course.
Tony Finau holds a four-shot lead at 13-under par and there are only 13 players within seven shots of first place. None of this suggests that we don't have a long way to go yet, since this course can cause problems before you know what happened. However, it will be a crucial Saturday for the field if they are to close the gap on the American.
If you aren't already, you can find me on Twitter @TeeOffSports. There I will provide my pre-tournament model, a powerful and interactive data spreadsheet that allows user inputs to create custom golf rankings. That sheet is free and released every Monday, so be sure to check it out and build your numbers from my database of information.
Round 3 Head to Head:
Patrick Rodgers (-110) on Mackenzie Hughes (DraftKings)
I advocated finding fade opportunities against Mackenzie Hughes this week in all markets and while we haven't accomplished anything yet – my Davis Riley pre-tournament bet on Hughes goes into the weekend one back – the data continues to paint a scary picture for the Canadian, even if the results hold well within the top 10 in the standings.
Some of this data is inaccurate as numerous players have yet to complete their first 36 holes, but the image below shows every golfer on this course who is bad when it comes to hitting the ball, but still projected to make the cut. .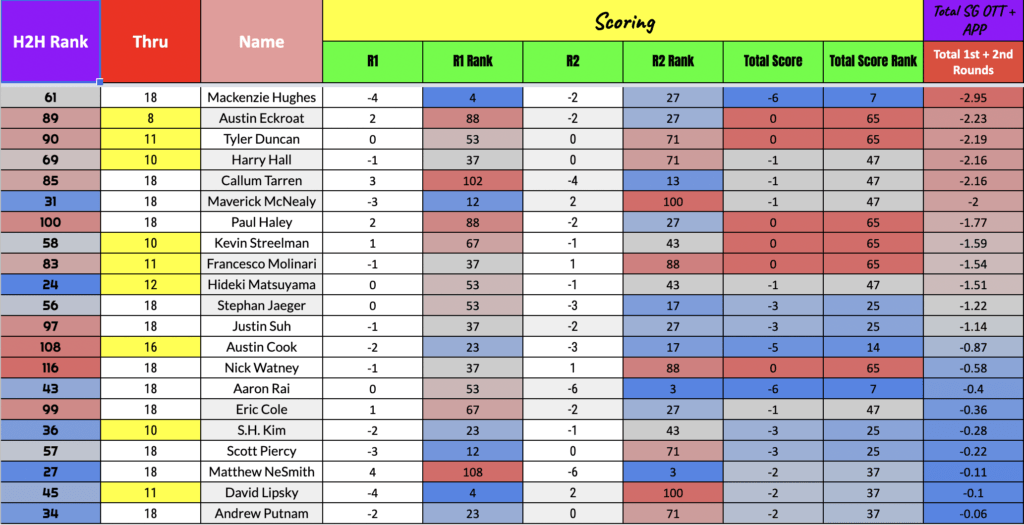 Options like Maverick McNealy and Hideki Matsuyama were strong enough pre-tournament picks that I wouldn't hold too much against them early Saturday, but caution comes into play for anyone who can't crack the top 50 on my pattern at this point.
Hughes' negative score of 2.95 in two rounds places him not only as the worst ball striker on the whole course for someone who will make the weekend, but he's also the only golfer to lose on a shot that is in the top 20 of the ranking.
There's nothing concrete to say the 31-year-old won't continue to run above the expected value with his short game metrics, especially since his touch around the green is one of his strengths, but my model projected this red flag is being emitted by him for multiple days, which means we have another chance to get a match against him at a price that remains enriched due to incorrect data creation. I love when these opportunities present themselves and if Hughes can continue to maintain his short game magic, I will tip him.
How would you rate this article?